Belgian retailer takes next ambitious step in reducing climate impact
Yesterday, Colruyt Group organised its Zero Emissions Transport event in Ollignies, showcasing a new hydrogen refuelling station (HRS) at the distribution centre and zero-emission vehicles, including a hydrogen-powered VDL-built truck. The station and truck are part of the H2Haul project, co-funded by the Clean Hydrogen Partnership.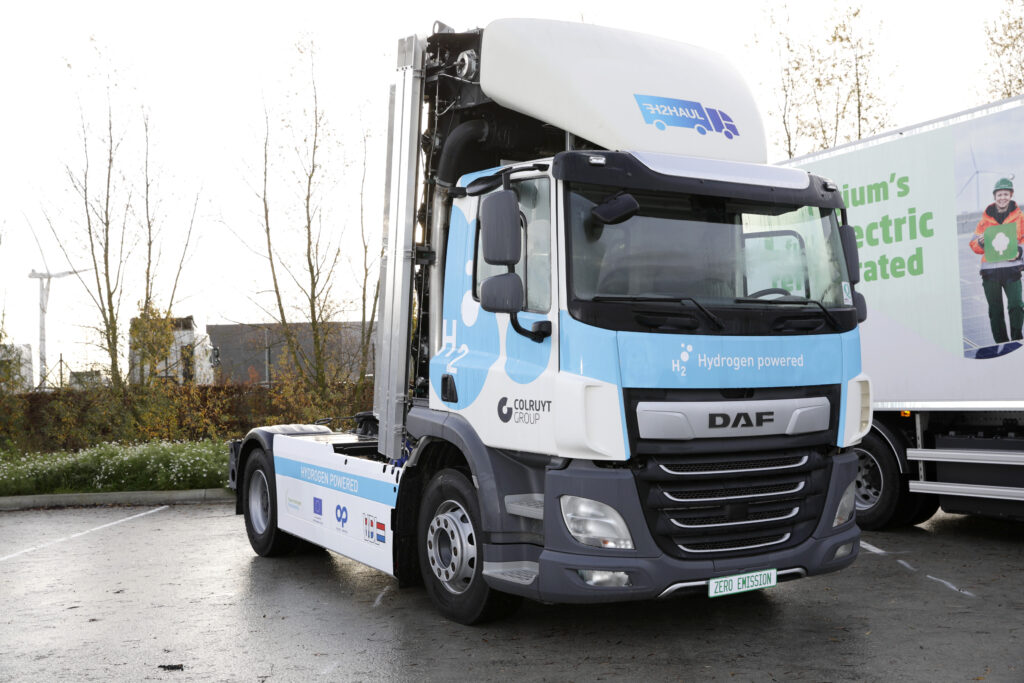 To further reduce its impact on the climate, the Colruyt Group aims to make all of its freight transport zero-emission by 2035. Both for its transport to and from shops and distribution centres via suppliers, the Belgian retailer intends to deploy zero-emission vehicles fully. The company will achieve this by using complementary technologies: battery electric and hydrogen vehicles. The complementarity in the combination of these alternatives ensures that the disadvantages of one technology are offset by the advantages of the other, such as charging time, deployability and infrastructure adaptation. Thanks to the in-house expertise of Virya Energy and DATS 24, and years of experience in the transport sector, Colruyt Group is confident that this ambition will be realised.
With Virya Energy, Colruyt Group can rely on extensive in-house expertise in producing green hydrogen and electricity. DATS 24 is building the electric charging and hydrogen infrastructure in Belgium, and Colruyt Group's innovative technical department also plays an important role.
For a first-hand account of Colruyt's involvement in the H2Haul project and the deployment of hydrogen refuelling stations and trucks, read Stefanie Van Damme's interview. To know more about VDL's role, read Dion Verhulst's interview.
About H2Haul
A total of 16 vehicles will be tested in real-world operations at sites in Belgium, France, Germany, and Switzerland. The innovative hydrogen refuelling stations to be deployed will offer rapid, high-capacity fuelling and thus support the demonstration of how fuel cell trucks can operate as direct replacements for diesel vehicles, with the same driving range and load capacity but with zero emissions.
The project will run for five years from 2019, with a minimum of 2 years in operation for the 16 trucks. H2Haul has received funding from the Clean Hydrogen Partnership under grant agreement No 826236. This Joint Undertaking receives support from the European Union's Horizon 2020 research and innovation programme, Hydrogen Europe, and Hydrogen Europe Research.
Read the press release.