H2Haul is an EU-funded project that aims to deploy 16 zero-emission fuel cell trucks at four sites. The project began in 2019 and will run for five years.
H2Haul (Hydrogen Fuel Cell Trucks for Heavy Duty Zero Emissions Logistics – 826236) is a project co-financed by the Fuel Cell and Hydrogen Joint Undertaking (FCH JU). It aims to develop and deploy 16 zero-emission fuel cell trucks at four sites. In addition, new high-capacity hydrogen refuelling stations will be installed to provide reliable, low carbon hydrogen supplies to the trucks.  The project began in 2019 and will run for five years.
Develop long-haul heavy-duty (26 and 44t) fuel cell trucks that meet customer requirements in a variety of operating environments

Approve three types of fuel cell trucks to certify that they are safe for use on Europe's roads.

Install a hydrogen refuelling infrastructure and establish highly reliable hydrogen supply arrangements to maximise environmental benefits.

Drive the fuel cell trucks for more than one million kilometres during normal commercial operations, demonstrating the viability of the technology.

Demonstrate the high reliability of heavy-duty fuel cell trucks, compatible with normal road transport operations under normal operating conditions.

Monitor vehicle and infrastructure performance throughout the operational phase to provide definitive, third-party validated evidence of the availability, efficiency and environmental benefits of fuel cell trucks.

Develop the business case for the further deployment of heavy-duty fuel cell trucks.

To prepare the European market for the further deployment of fuel cell trucks by developing innovative business models and disseminating information on the project to a wide audience of relevant stakeholders.
Where will these trucks be deployed?
The trucks will be deployed in four European countries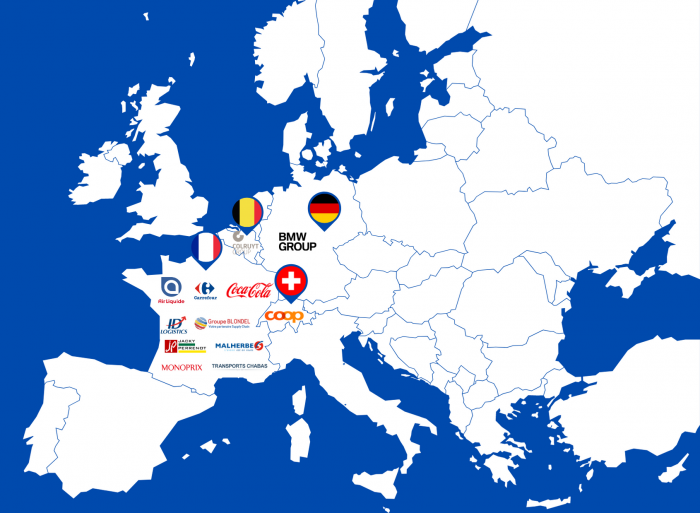 Colruyt group will operate four VDL trucks (three tractors and one rigid truck) at one of the distribution centres in Belgium (minimum 40,000 km/year per truck). The trucks will distribute goods between the distribution and retail sites. A new hydrogen refuelling station for heavy-duty vehicles will be built in Ollignies and operated by DATS24, subsidiary of Colruyt group.
Four IVECO tractor trucks and one rigid truck – up to 240,000 km/year each – operated by Blondel, Chabas, ID Logistics, Malherbe and Perrenot will distribute goods  (including Coca-Cola's) or furniture to Carrefour or Monoprix shops or other end-users. One additional IVECO tractor truck will be used by Air Liquide to distribute hydrogen to the hydrogen refuelling station and other industrial customers – up to 160,000 km/year. Air Liquide will develop a hydrogen refuelling station in Fos-sur-Mer with low-carbon hydrogen at 700 bar from electrolysis
A German logistics provider will operate two IVECO tractor trucks on behalf of BMW. The trucks will transport parts between Bavaria (Nuremberg) and Leipzig (BMW plant), supported by two new hydrogen refuelling stations.
Four IVECO rigid trucks will be demonstrated, completing 60,000-85,000 km/year each. The trucks will be used to distribute goods to Swiss retailer Coop shops. H2Energy will develop a hydrogen refuelling station for back-to-back refuelling of the four trucks in an hour with 100% renewable energy.
The scope and ambition of this innovative project will create a range of valuable information that will be widely disseminated to truck operators, retail sector representatives, policy makers and the hydrogen industry. H2Haul will therefore validate the ability of hydrogen fuel cell trucks to provide zero-emission mobility in heavy-duty applications and will lay the foundation for the commercialisation of this sector in Europe during the 2020s.